NATIONAL SERVICE SCHEME
OBJECTIVES OF NSS
The overall objective of NSS is Personality Development of students through community service.
Understand the community in which they work and their problems.
Finding practical solutions to community problems and developing civil responsibility.
Develop leadership qualities and capacity to meet disasters and emergencies.
Gaining skills in mobilizing community participation.
Practice national integration and social harmony.
MOTTO
"NOT ME BUT YOU"
It underlines that the welfare of an individual is ultimately dependent on the welfare of the society as a whole. This expresses the essence of democratic living and upholds the need of selfness service and appreciation of the other man's point of view and also consideration for fellow human beings.
SYMBOL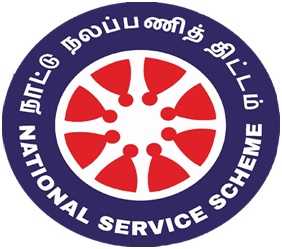 The symbol for the NSS has been based on the giant Rath Wheel of the world-famous Konark Sun Temple (The Black Pagoda) situated in Odisha, India. The wheel portrays the cycle of creation, preservation and release. It signifies the movement in life across time and space, the symbol thus stands for continuity as well as change and implies the continuous striving of NSS for social change. The eight bars in the wheel represent 24 hours of a day. The red color indicates that the volunteer is full of young blood that is lively, active, energetic and full of high spirit. The navy blue color indicates the cosmos of which the NSS is tiny part, ready to contribute its share for the welfare of the mankind. It stands for continuity as well as change and implies the continuous striving of NSS for social transformation and uplift.
AIMS AND DUTIES
To work with/among people.
To engage in creative and constructive social action.
To enhance his/her knowledge of himself/herself and the community.
To put his/her scholarship to practical use in mitigating at least some the problems
To gain skill in the exercise of democratic leadership.
To gain skills in programme development to enable him/her for self-employment.
To bridge the gulf between the educated and the uneducated masses.
To promote the will to serve the weaker section of the community
OUR DUTIES
To establish rapport with the people in the project area.
Identify needs, problems and resources of the community.
Plan programmes and carry out plans.
Relate his learning and experience towards finding solutions of the problems identifies.
Record the activities in his work diary systematically and assess the progress periodically and effect changes as and when needed.
List of Internatioal and National Days/Weeks to be Observed by National Service Scheme
| | | |
| --- | --- | --- |
| S.NO | DAYS | DATES |
| 1. | National Youth Day | 12th January |
| 2 | Republic Day | 26th January |
| 3. | International Women Day | 8 th March |
| 4. | World Health Day | 7 th April |
| 5. | World Environment Day | 5 th June |
| 6. | World Population Day | 11th July |
| 7. | Independence Day | 15th August |
| 8. | International Literacy Day | 8 th September |
| 9. | NSS Day | 24th September |
| 10. | National Blood Donation Day | 1 st October |
| 11. | National Integration Day | 19th November |
| 12. | World AIDS Day | 1st December |
| 13. | World Human Rights Day | 10th December |
| S.NO | WEEKS | DATES |
| 1. | National Youth Week | 12-19 January |
NSS COMMITTEE MEMBERS
S.NO
COMMITTEE ROLL
MEMBERS
DESIGNATION
1.
CHAIRPERSON
PROF.DR. M.SUMATHI
PRINCIPAL
2
SOCIAL WORK BACKGROUND PERSON
MS. SHANMATHI,
TUTOR
MRS.S. AJITHA
NURSING TUTOR
3.
THE DEVELOPMENT DEPARTMENT OFFICER
MR. R.KARUNAKARAN
BMO, MANICKAMPALAYAM PHC
4.
REPRESENTATIVE FROM THE ADOPTED VILLAGE/SLUM/ WELFARE AGENCY
B.PREMALATHA
ANGANVADI WORKER
5.
NSS STUDENT LEADERS
MS.N.JEEVITHA,
MS.M.POOJA
IV B.SC(N),
III GNM